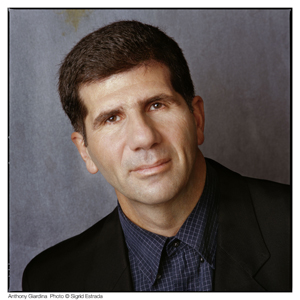 Anthony Giardina was born in Waltham, Massachusetts and educated at Fordham University. He is the author of the novels Men with Debts (1984), A Boy's Pretensions (1988), Recent History (2001) and White Guys (2006), as well as the story collection The Country of Marriage (1998). His fifth novel, Norumbega Park, was published by Farrar, Straus and Giroux in February 2012. His short fiction and essays have appeared in Harper's, Esquire, GQ and The New York Times Magazine.
His plays, including Living at Home, An American Tragedy, The Child, Scenes from La Vie de Boheme, The Beach, Black Forest and Custody of the Eyes, have been produced in New York at Playwrights Horizons and the Manhattan Theater Club, and regionally at Arena Stage in Washington, D.C., Seattle Rep, Yale Rep, the Long Wharf in New Haven and the Cleveland Playhouse. His play The City of Conversation was produced by Lincoln Center Theater in New York in 2014, and subsequently nominated for the Outer Critics Circle and Drama Desk awards for Best Play of the 2014-15 season. His most recent play, Dan Cody's Yacht, was produced by the Manhattan Theater Club in May 2018.
He has taught at Smith and Mount Holyoke College, Colorado College, the University of Rochester, and in the MFA program at the University of Massachusetts. He has been a regular Visiting Professor at the Michener Center of the University of Texas at Austin.
He lives in Northampton, Massachusetts.