Books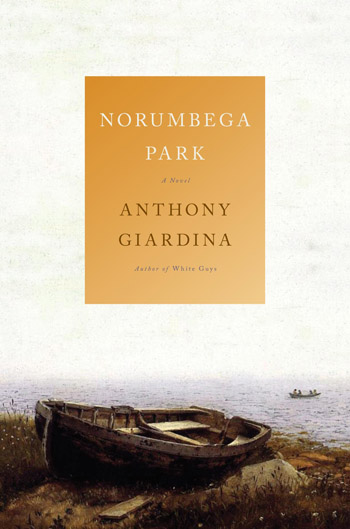 Norumbega Park
"Beautiful, audacious...There are countless emotional pitfalls authors fall into, but Giardina has avoided every one, and the result is majestic- Norumbega Park is one of the bravest, most memorable novels in years."
-Michael Schaub, NPR
"The subtle nuances of class; the charged eroticism between siblings, between husband and wife, between parents and children; the examination of faith and its loss- all are explored in rich, believable ways."
- Jennifer Gilmore, The New York Times Book Review
"This is a superb novel on every level, for Giardina fully fleshes out his characters, as he scrutinizes their personal, family and social ties."
-Kirkus Reviews (starred review)
A beautiful new novel about the consequences of pursuing the American dream, by an author "exquisitely tuned to his characters' hopes, uncertainties and misgivings" (The Seattle Times).
Norumbega Park begins with a vision. Richie Palumbo, the most prosaic of men, gets lost one night in 1969 while driving home with his family. He finds himself in the town of Norumbega- a hidden town, remote and gorgeous, at the far edges of Boston's western suburbs. He sees an old, venerable house there, and without quite knowing why, decides he must have it. The repercussions of Richie's wild dream- to own a house in this town- lead to a forty year odyssey for his family. For Jack, his son, Norumbega becomes a sexual playground, until he meets one ungraspable girl and begins a lifelong pursuit of her. For Joannie, Richie's daughter, the challenges of living here lead her to pursue the contemplative life. For Stella, Richie's wife, life in Norumbega leads to surprising growth as both a sexual and a spiritual being.
Norumbega Park- by Anthony Giardina, the critically acclaimed author of White Guys- is a novel about class and parental dreams, sex and spirituality, the way visions conflict with stubborn reality, and a family's ability to open up, for others, a world they could never fully grasp for themselves.
Buy now:
---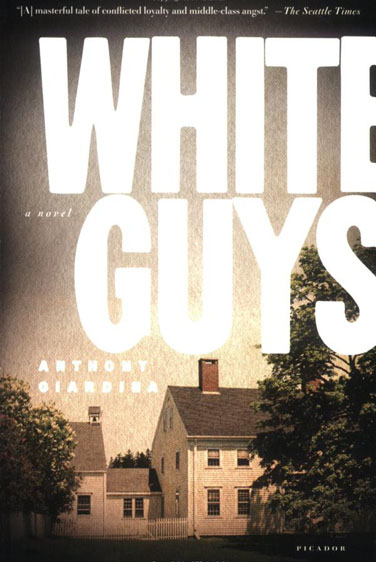 White Guys
Back in hardscrabble Winship, Massachusetts, in the early 1970s, Billy Mogavero was everything his friends wanted to be- tough, sexy, graceful, a leader of young men. Twenty years later, the four teenagers who followed him around have all made it out of Winship. Have made it, period. Only Billy has stayed behind. Now he's a paint salesman, living at home with his mentally handicapped brother. When the guys go back to visit the old neighborhood, their reunion gives Billy's life a second act in yuppie Boston, where his charm finally catapults him into the suburban respectability he and his friends have been working for all their lives.
No one is more enthralled by Billy's social success than his old best friend, Timmy O'Kane. As he watches Billy move up in the mall development business and marry a woman who's every bit his match in nerve and daring, Timmy feels the limitations of his own safe life: his quiet career selling textbooks, his sensible marriage into a well-to-do family and a cozy suburb. After Billy and his pregnant wife are victims of a drive-by shooting, which only Billy survives, Timmy is ensnared in a series of events that threatens to bring his life tumbling around him- a risk that is both terrifying and terrifyingly seductive.
Buy now:
---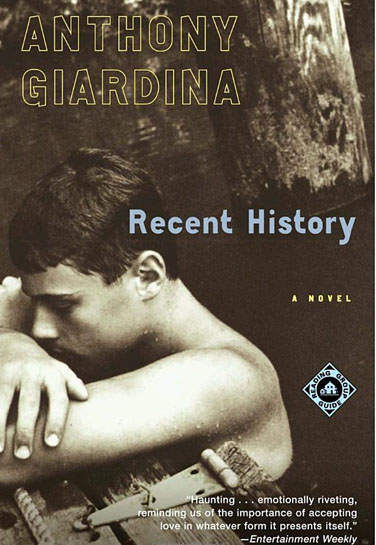 Recent History
Luca Carcera is twelve years old in 1962, growing up in a comfortable Italian American neighborhood in Massachusetts, when his father suddenly moves out of the house under mysterious circumstances and surfaces across town, in a run-down rooming house, living with another man. In the aftermath of his parents' separation, Luca finds himself shocked as well by his mother's burgeoning sexuality as she longs for male companionship. And what about Luca's own sexual awakening? Is his unusually intense friendship with a boy at school merely a weapon with which to get back at his father? And yet he's also drawn to his pretty, female next-door neighbor. Overwhelmed by the sheer power of sex to shatter the status quo, Luca shuts down.
It is an era when men gauge their success by the size of their houses, the make of their cars, and whether their sons go off to college or to war. But by the time Luca reaches adulthood, the boundaries have shifted. Intimacy has become the watchword in relationships; men are expected to explore their own emotional terrain. The old world of Luca's father's generation, in which men hide behind their material successes, has vanished. Luca enters his own marriage harboring a sexual secret that, in the early 1960s, might have remained a secret; but that's no longer an option. And when Luca gets a startling phone call from someone in his past, he is forced to truly see his most private self, even to hold it up to his wife's gaze. He confronts, in the most painful way, the strictly demarcated boundaries of male sexuality. For his own good and for the good of his marriage, he must press past those boundaries to redefine what it is to be a man.
In its exploration of uncharted territory, Recent History becomes much more than a novel of sexual awakening, sexual identity, or sexual politics. Anthony Giardina tracks the movement of men's lives from the place where what is important is dominion, the settled claim, to the place where what is important is a man's ability to open himself emotionally, whoever his partner may be. In doing so, Giardina distinguishes himself as a novelist of rare power and grace.
Buy now:
---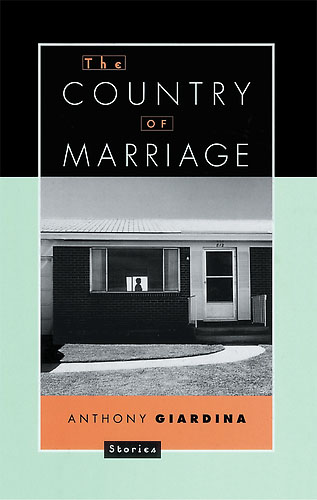 Country of Marriage
The Country of Marriage is a window into the lives of men as they confront the darkness at the heart of domestic existence. And with this collection of stories, Anthony Giardina takes his place among the finest writers of short fiction in America today. His work has appeared in Harper's, Esquire, GQ and The New York Times Magazine and has been showcased alongside the work of such contemporary giants as Tobias Wolff and Robert Stone. He is that rare artist whose stories will endure.
The Country of Marriage shows, with frightening clarity, that the most ordinary lives are fraught with secret dreams and frustrations that can both support and sabotage everyday love. Giardina looks at our relationships- with an eye capable of clinical precision but never devoid of compassion- and gives voice to the emotions that lie unexplored and unexpressed beneath their seemingly placid surface.
In "Days with Cecilia", a highly articulate shop teacher reveals by attrition the sexual secret of his marriage. In "The Lake", a young fireman confronts his complicity in the murder of his best friend's wife. And in "The Films of Richard Egan", the aborted career of an almost-was film star finds its echo in a suburban boy's life.
These are emotional landscapes at once familiar and unsettling, with characters who are instantly recognizable but endlessly surprising. Brilliantly observed and masterfully told, The Country of Marriage is an unforgettable montage of lives of dwindling promise, of stubborn hope, of emotional atrophy, and of the courage to take root in the indifferent soil of modern existence.
Buy now:
---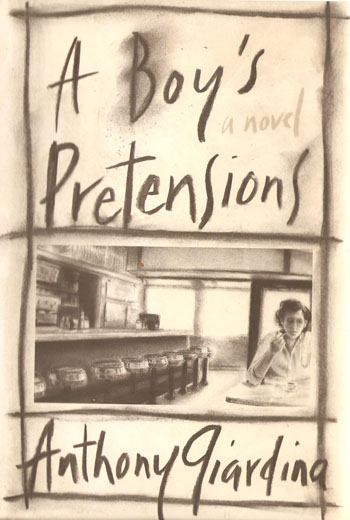 A Boy's Pretensions
It is the seventies, the era of Free Love and Let It All Hang Out, and Nicholas Battaglia wants to- in the worst way. He is the first one from his extended blue-collar family to escape from his hometown outside Boston and the family laundromat to go away to college. But Fordham isn't Berkeley (it isn't even really New York, it's the Bronx), and Nicholas is acutely aware that his college experience feels closer to the dances at the Sons of Italy Hall than the fantasies he had of Ivy League football rallies. And all the time he is aware of and influenced by being the focus of his proud but nervous family: he should do well, but not inexplicably well; he should enjoy himself, but not too much.
A family crisis forces him to drop out for a while, and by the time he returns to school he is ready to Live Life. The vehicle for his rebellion presents itself in the form of Cynthia Branner- older, married, Jewish, his instructor- a woman whose self-destructive neuroticism is a match for his innocence and self-absorption. Their affair is like two full length mirrors reflecting in opposite directions.
One of the great pleasures of this novel is Anthony Giardina's great affection for his characters, foibles and all. He brings them so vividly to life that readers must feel they have met Aunt Rose and Uncle Al and have joined them at the Christmas dinner where they throw themselves into the role of "the guests"; Uncle Billy, the lounge singer, who takes Nicholas out on the town to the Six Brothers Coffee Shop and cites Shakespeare, "You know, 'Whither is the rose…'"
And there is Nick's roommate, Tommy, who does manage to break free, spectacularly (but that is to be expected of a guy who brings girls home and then leaves the bedroom door open) and his father, whose inability to understand his son seems to be in direct proportion to the number of garish images of Jesus adorning his widower's room.
Anthony Giardina's first novel, Men with Debts, was called "lovely and arresting, "ambitious and original", and "both a moving study of character and a finely realized picture of a time." A Boy's Pretensions more than fulfills that earlier book's promise.
Buy now:
---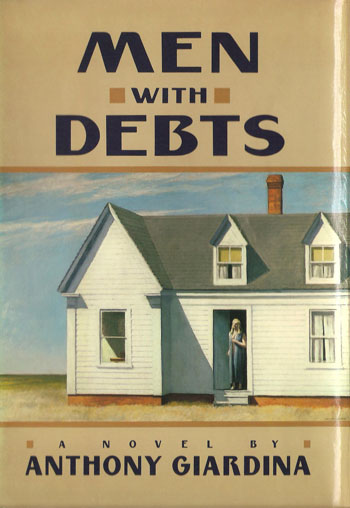 Men with Debts
The novelistic debut of a talented young playwright ( " a true theatrical imagination", Edith Oliver, The New Yorker )- a moving and tender novel set in the fifties, in a suburb of Boston.
Jack Henna is a responsible man, a good man. He sells insurance and believes wholeheartedly in the policies he pitches (to him, "making a sale is more like putting someone to bed, tucking in the covers and turning out the lights"). He loves the idea of his life: his wife, Nancy, and their two young sons, Thomas and Leo. He cherishes their home and its small plot of land. But underneath all the family activity, the adventure of his life seems lost, his days seem too neat and predictable; there are no surprises anywhere in store…
Until one day, on a routine assignment, he is sent to a farmhouse to settle a claim: a young husband has asphyxiated himself in his '53 Buick (he is the holder of a twenty-thousand-dollar life insurance policy). And Henna meets the young widow. She is at once touching, chaotic, mysterious and (she's lived in New York) wordly. And to his own shame and dismay, he perceives her as the adventure of which he's been deprived. We see this solid, reliable man falling in love, as recklessly as an adolescent- willing to turn his back on his marriage, on his job, on his deeply held sense of what is right for him as a husband, as a father, as a dedicated upholder of his company's credo.
What happens as he is pulled by powerful opposing desires is told in a novel that is poignant, strong and unusually affecting.
Buy now:
---
Plays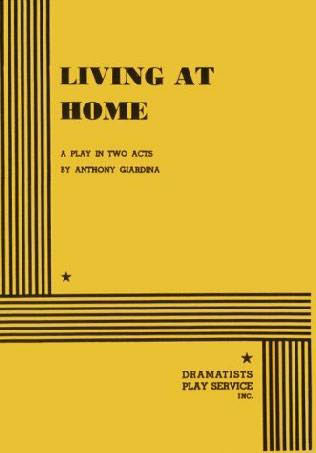 Living At Home
Having dropped out of college, yet reluctant to tell his friends of his decision, John Bogle drifts aimlessly. He rejects his father's offer to take him into his business; derides his brother for his ambition; teases his younger sister and her muscle-bound boyfriend; and is unable to deal with the illness of his mother, who lies upstairs dying of cancer. Turning aside his family's well-meant interest with flippant humor, or by reading passages from Eugene O'Neill, John's emotions rise to the surface only when challenged by a telling encounter with the sister of his brother's girlfriend, and in a poignant reunion with the unappealing girl who had idolized him in his high school days. But, in the end, John's cool buffoonery breaks down in the face of his family's continued concern, and he undergoes an emotional catharsis, pouring out, at last, the pent-up feelings and uncertainties that had been undermining his attempts to come to terms with life in the youthful present and for the years to come.
Originally produced at Playwrights Horizons in New York.
Buy now:
---
Custody of the Eyes
On an island in Maine, two men of the cloth- a Bishop and a disgraced former priest- conduct an investigation into the disappearance of a young priest. As his story is recounted, we see the young priest- Edmond- and a parishioner, Sheila, meet. Sheila wants Riley, her eleven year old son who has Canavan's disease, to receive communion. Edmond tries to educate a child considered incapable of communication. As Edmond becomes more involved with Sheila and Riley, he begins to question his religious and human role. In need of her own spiritual guidance and companionship, Sheila challenges Edmond's humanity, while also threatening his priesthood.
"Penetrating intelligence and emotional entanglements aplenty," said the Cleveland Plain Dealer, "As it closes with a haunting final question mark, the strength of Custody of the Eyes lies in its inability to answer its own pesky questions about church and the soul."
---

Black Forest
At an elite women's college in Massachusetts, two minor crises emerge during the Fall semester: the philandering head of the English Department decides to callously end his affair with a colleague, and an aging professor is caught making unwanted sexual advances to a student. But in the academic world of the early 21st century, there is no such thing as a minor crisis. For Jacob Freundlich, an English professor approaching middle age, the sudden necessity of making moral choices, rather than just teaching books about them, leads him into a devastating midlife crisis of his own.
A comedy about the necessity, and the exquisite pain, of making choices. "A class act," said the Hartford Courant when the play opened at the Long Wharf in New Haven, " a play well worth auditing. Giardina balances his banter about the great writers with penetrating looks into the lives of male teachers."